Gutter Repair & Installation Posts
In the following posts, we will be discussing all aspects of gutter repair and installation to your home or business. Gordy Roofing Inc. is a qualified roofing contractor that specializes in gutter replacement and repairs. There can be many problems found surrounding the gutters on your home. Our detailed posts will give you valuable insights into properly maintaining and caring for your gutters.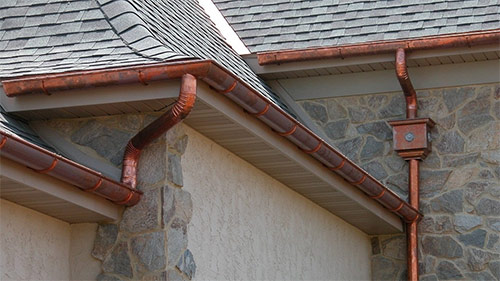 Often problems can arise as time goes by with your gutter system. The most common are usually a combination of these: overflow, leaking, sagging, and poor run-off around the house.  Rain gutters are small but an important aspect of your home or business structure. Gutters come in different shapes and sizes, but the most popular is the open gutter in a rolled-form seamless style.  All gutters are designed to be a trough to collect the run-off of rain, funnel it through the downspouts, and keep it away from doors and windows or other points of entry into your home.
It is a natural result that open gutters can collect debris such as leaves and other trash that can and will clog your system. In arid conditions, this can lead to fire hazards, and heavy rains eventually cause overflow and flooding with standing water, leading to even bigger problems. When choosing a qualified roofing company in East TX  make sure that they offer gutter repair and installation as a service. The best roofers will be able to handle any gutter problems should they arise. Roofing tx Inc has years of experience in gutter repair and new installation. We will be discussing all aspects surrounding your gutter system below to aid you in the long-term investment of your home. Make sure any roofing contractors you are considering hiring can provide you with all the details and information you need in making your decision.
Replacing the Gutters Around My Home Investing in the right gutters for your home can help protect your home from a variety of weather conditions. Gutters can prevent water from leaking into your home, and they also keep water out of your foundation and exterior walls. Gutters can also protect your roof, and they can improve the look of your home. You can choose from [...]
How Do You Repair a Gutter? Several common issues can cause a gutter to leak. Here are some simple ways to repair a gutter. Using a screwdriver or utility knife, remove the caulk around the screws. Once you have removed the caulk, use a wire brush to remove any rust from the gutter pieces. Then, press the top part firmly for 30 seconds before applying [...]